[vc_row][vc_column width="1/2″][vc_column_text width="1/1″ el_position="first"]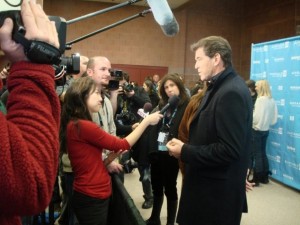 [/vc_column_text][vc_text_separator title="Interviewing actor Pierce Brosnan at the Sundance Film Festival" title_align="separator_align_center"][/vc_column][vc_column width="1/2″][vc_column_text width="1/1″ el_position="last"]Genevieve has been a steadily working broadcast and print reporter for close to a decade.
Her career in journalism began in high school when she was tapped as a recurring "Teen Advice Expert" on the daytime talk show Leeza on NBC. In 1998, Genevieve received the prestigious Los Angeles Times Journalism Award for her coverage of the Monica Lewinsky scandal. During graduate school, Genevieve worked as a Capitol Hill correspondent for the Spartanburg Herald-Journal, and later– as a one-man band reporter for KVIA and KMID, ABC's affiliates in El Paso and Midland, Texas.
Over the years, Genevieve has seen her work published in a variety of print publications and online, writing and reporting for MTV.com, the Associated Press, the Los Angeles Downtown News and Life & Style. She previously served as the resident gossip columnist at AccessHollywood.com from 2013-14.
You can currently read Genevieve's work in two of America's most widely circulated newspapers– the Los Angeles Times and the New York Post.
[/vc_column_text][/vc_column][/vc_row]