By Genevieve Wong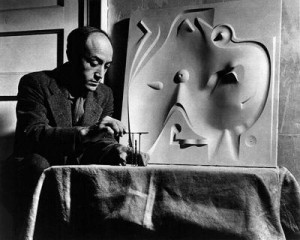 When the name Isamu Noguchi pops up, most people think of his delicate Akari paper lamps. The illuminating devices, of various shapes and sizes, are especially popular right now, as they put fine design into something people use every day in their homes. However, Noguchi went far beyond the lamp landscape. In a career that spanned six decades, his work was seen in myriad fields, including on stages for dance performances. He created many sculptures, among them "California Scenario" in South Coast Plaza. In Downtown Los Angeles, his "To the Issei" commands the plaza of the Japanese American Cultural and Community Center.
Also in Downtown is the recently opened Isamu Noguchi -Sculptural Design, at the Japanese American National Museum (JANM) through May 14. The exhibit, which includes more than 80 of his creations, marks the museum's second display of the Los Angeles-born Noguchi's work, though the previous show set him in the pantheon of other artists. This display, arranged by avant-garde theater and opera director Robert Wilson, is all Noguchi.
"This is the first show ever to look at Noguchi's entire range of work," said JANM Senior Curator Karin Higa. "What makes him a good artist is he worked in various mediums. At the time when he was doing it, artists weren't working in a wide range." That range includes portrait busts, unique stone sculptures, set designs, furniture designs and lamps.
For 60 years, until his death in 1988, Noguchi blurred the lines between sculptural art and functional design. He also merged East and West, a concept that was fairly foreign to artists during his early years. The process fit his background, however. He was born Sam Gilmour in Boyle Heights to an Irish American father (Leonie Gilmour) and a Japanese poet mother (Yone Noguchi). He spent part of his upbringing in Japan, but was educated in the United States. His cultural exposure extended to Paris, where he was as an assistant to sculptor Constantin Brancusi, and to Mexico, where he worked with muralist Diego Rivera.
Among the most interesting elements of the JANM show is the involvement of Wilson, whose spare, languid productions of Parsifal and Madama Butterfly were staged this season by the Los Angeles Opera. Wilson is also working on an April Ahmanson Theatre production, The Black Rider, created with Tom Waits and the late William S. Burroughs. The Wilson involvement displeased some Noguchi diehards, noted Higa. A few critics even protested that Wilson's lighting took away from Noguchi's pieces.
"It's a controversial show for purists. But, we're not saying it's the only way to show Noguchi," Higa said. The collaboration had its base in friendship; Wilson and Noguchi met in New York City during the '60s and were frequently in contact. Wilson's presentation of Noguchi's work follows a theatrical bent. The show is divided into four "acts," or galleries, with each blending into the next to create an all-encompassing, sensory experience. The exhibit is filled with large quantities of black lava sand, silver-colored gravel, sacks of broken glass, scores of aluminum squares and bales of straw.
The journey begins with Act I, a disorienting dark room filled with sets and props Noguchi made for choreographer Martha Graham. They first worked together in 1935 and their collaboration lasted more than three decades, as Noguchi created 21 stage sets for her. Most notable are a Greek lyre from "Orpheus," a 1948 work choreographed by George Balanchine, and a large-scale piece from Graham's 1950 production of "Judith" entitled "Holo Ferne's Tent." As the darkness fades into light, Act II holds many of the Akari (which means illuminate) paper lanterns. Noguchi came up with the concept after seeing fishing lanterns on the Nagara River in 1951.
Also in the gallery are some of the tables, chairs, stools and dinnerware Noguchi created while working for famed furniture designers Knoll and Herman Miller. The third gallery is intended to evoke a Japanese Zen garden, with a gravel bed and an assortment of Noguchi's outdoor sculptures, including "Water Table," a black granite, upside down L that curves and has water in its indentations. The final space holds a mix of set, furniture, stone and marble designs, among them a chrome-plated bronze bust of Buckminster Fuller, and a marble slide that was shown at the 1986 Venice Biennale.
Along with the exhibit, JANM is hosting a series of Noguchi-themed lectures and discussions. Among the highlights are a conversation with Yuriko, a dancer from the Martha Graham company, on March 12, and "Sculpture in Goop," a family-oriented program on April 22.
Isamu Noguchi – Sculptural Design continues at JANM through May 14. 369 E. First St., (213) 625-0414 or janm.org
Copyright © 2011 LA Downtown News